Forms of cultural expression can be critical tools used to raise public awareness of social issues and enlist a form of change. Old school rap of the 90's had a clear political agenda, and was used to express resistance of the mainstream oppressive society.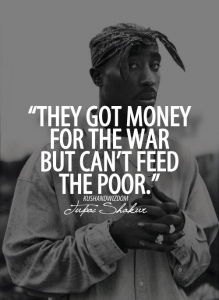 "Rather be stuck up than stuck down
Heres the difference
Against Mr. Man informants and government
While real people starve and can't pay their rent
They [you] seriously don't mean what you meant
I ain't tricked deceived paid off inagreement
Somebody planned it
Glad y'all understand it
Those that don't
Headharded like granite
We look out for them too
And don't take 'em for granted
Like said;
Somebody planned it."
-Public Enemy
"No way your that scared of my hoodie
People everywhere getting snared over hoodies
Seen a couple pairs get aired by the hoodies.
But
They don't care
My skin's bared under hoodies"
-Public Enemy
"And since we all came from a woman
Got our name from a woman and our game from a woman
I wonder why we take from our women
Why we rape our women, do we hate our women?
I think it's time to kill for our women
Time to heal our women, be real to our women
And if we don't we'll have a race of babies
That will hate the ladies, that make the babies
And since a man can't make one
He has no right to tell a woman when and where to create one
So will the real men get up
I know you're fed up ladies, but keep your head up"
-2pac
I see no changes. Wake up in the morning and I ask myself,
"Is life worth living? Should I blast myself?"
I'm tired of bein' poor and even worse I'm black.
My stomach hurts, so I'm lookin' for a purse to snatch.
Cops give a damn about a negro? Pull the trigger, kill a [explicit], he's a hero.
Give the crack to the kids, who the hell cares? One less hungry mouth on the welfare.
First ship 'em dope and let 'em deal to brothers.
Give 'em guns, step back, and watch 'em kill each other.
I see no changes. All I see is racist faces.
Misplaced hate makes disgrace to races we under.
I wonder what it takes to make this one better place…
let's erase the wasted.
Take the evil out the people, they'll be acting right.
'Cause both black and white are smokin' crack tonight.
And only time we chill is when we kill each other.
It takes skill to be real, time to heal each other.
And still I see no changes. Can't a brother get a little peace?
There's war on the streets and the war in the Middle East.
Instead of war on poverty,
they got a war on drugs so the police can bother me.
And I ain't never did a crime I ain't have to do.
But now I'm back with the facts givin' 'em back to you.
Don't let 'em jack you up, back you up, crack you up and pimp smack you up.
You gotta learn to hold ya own.
-2Pac